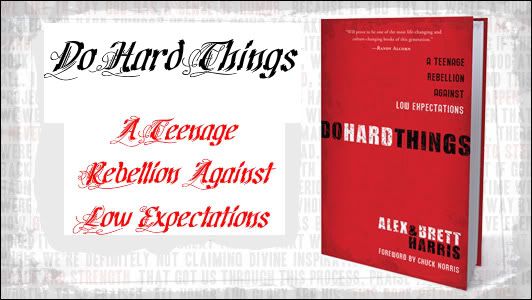 Note: If you are not a teen, and would still like to participate, that is perfectly fine.
The basics of the contest: A group of teens from the ToO will hopefully be reading the book
Do Hard Things
this month. I will post discussion threads for each chapter so that if people want to discuss what they've read with the other teens, they can do so.
How to enter: Post here that you would like to participate. Then pick up from your library or local bookstore (or wherever you can find it
) the book by Alex and Brett Harris called
Do Hard Things
.
Suggested Schedule:
Week 1(Mon. 18-Sat. 23): Chapters 1-4
Week 2 (Mon. 25-Sat. 29): Chapters 5-8
Week 3 (Mon. 1-Sat. 5)Chapters 9-12
Following this schedule you will get done in three weeks, reading 4 chapters each week. If you need to work your reading schedule another way however, do not hesitate to do so.
This is a
really
good book. It is a Christian book about how to live our teen years for God. The Harris twins have also created a forum, so that once you finish the book, if you would like you can join it to talk with other teens near you and around the world. (To join the forum you must be 13 +)