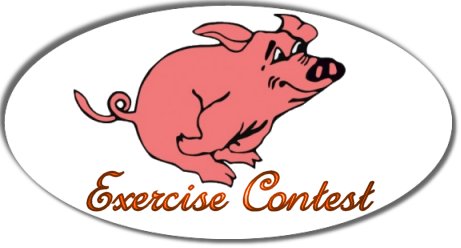 Once upon a time , there was a pig named Robert. In this particular story, Robert lived in the internet age. One day Robert heard that an AIO board was paying virtual money to those who would exercise during the summer. This made Robert very excited. However, Robert ended up doing so much exercise he wasn't even fat enough to make bacon with.
Unlike Robert, we can exercise and be made better for it. Not only does it help us take care of the temple God gave us, it helps us feel better, reduces the risk of some cancers, controls weight, and sometimes is just plain fun.
Now we add another element to that mix, getting paid for exercising. There are all kinds of ways to exercise.
Aerobics
Archery
Badminton
Baseball
Basketball
Baton Twirling
Bicycling
Bowling
Boxing/Kickboxing
Calisthenics
Canoeing
Cardio Machines
Cheerleading
Circuit Training
Cricket
Croquet
Cross Country Skiing
Curling
Dancing
Diving
Downhill Skiing
Fencing
Fishing
Football
Frisbee
Golf
Gymnastics
Hacky Sack
Handball
Hang Gliding
Hiking/Backpacking
Hockey
Horseback Riding
Horseshoe Pitching
Hunting
Inline Skating
Jai Alai
Juggling
Kayaking
Lacrosse
Lawn Bowling
Marching
Mountain Biking
Mountain Climbing
Orienteering
Paddleball
Pedometer
Pilates
Polo
Racquetball
Rock Climbing
Roller Skating
Rope Jumping
Rowing
Rugby
Running
Sailing
Scuba Diving
Shuffleboard
Skateboarding
Skating
Ski Jumping
Sky Diving
Sledding
Snorkeling
Snowshoeing
Soccer
Softball
Squash
Stationary Bike
Stretching
Surfing
Swimming
Table Tennis
Tennis
Track & Field
Trampoline
Unicycling
Volleyball
Walking
Wallyball
Water Aerobics
Water Jogging
Water Polo
Water Skiing
Weight Training
Whitewater Rafting
Wrestling
How Do I Join The Fun?
I'm glad you asked. For starters you can set a goal for yourself in the
Exercise Goals
thread. While this is optional, it does provide a bigger payout. If you set a goal for July, You can change it for August if you need to. Another way to get involved is to post how much you have exercised each week in the
Exercise Logs
thread. The only way to get credit for your week of exercise is to post how much exercise you did at the end of each week. If you would like to post what you did throughout the week, I do ask that you list all of it in one post at the end of the week by
Saturday @ 11 PM CST
. The weeks will be as follows:


July 2-9
July 10-16
July 17-23
July 24-30
July 31- Aug 6
Aug 7-13
Aug14-20
Aug 21-27
Aug 28-Sept 3
Where's The Money?
Now, here's where you really have some decisions to make. You can just exercise or you can try to reach a goal. Here's how it works
$0.25
For every minute of exercise without a set goal to work towards.
$0.50
For every minute of exercise towards a set goal, as long as you give an assessment of how you progressing towards said goal.
Moontide has created the following diagram that explains everything for your viewing pleasure:
If you have further questions, post them below.