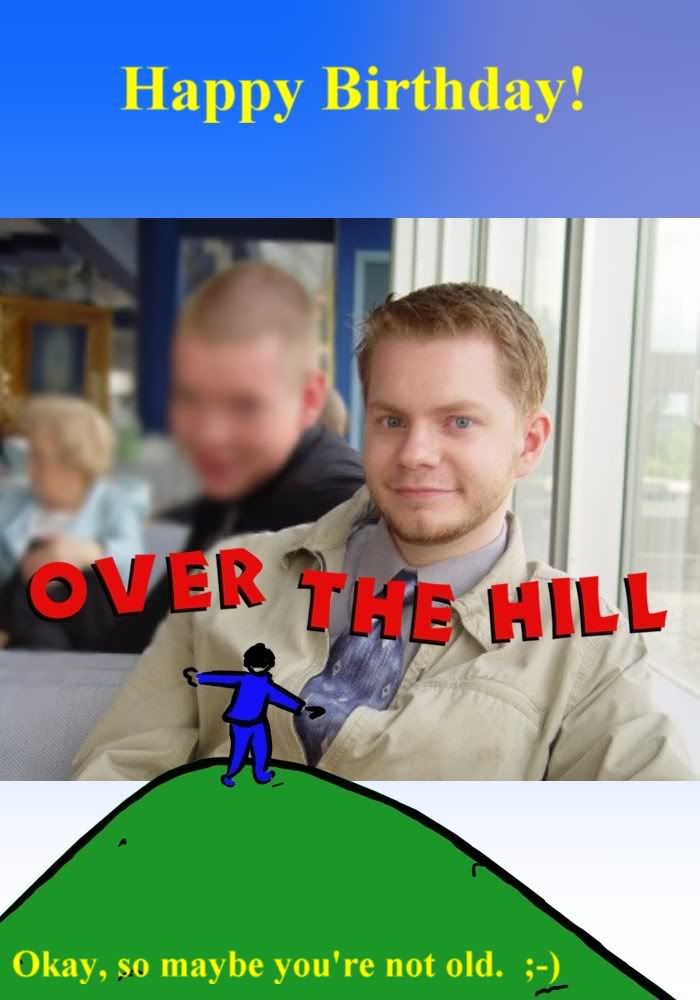 Shadowpaw,
Jonathan and I compiled a list of birthday messages for you...
Jonathan wrote:Happy Birthday Shadowpaw! You're hard work is greatly appreciated.

-Jonathan
Monday wrote: I hope you have a wonderful Birthday, Shadowpaw! Thank you for all that you have done for us!
J-man wrote:Happy Birthday Shadowpaw!
I hope you will have an enjoyable day, and thanks for making such a nice AIO Website/Messageboard!
-J-man aka JM91
Sarah wrote:Hey Shadowpaw! I hope you have a good birthday, and- WOAH! 21! That's ancient!

Sarah

dawningoftime wrote:Shadowpaw

Thank you for your hardwork on updating us on AIO and creating new ways for us, as fans, to experience it. Happy Birthday and may God continue to use you in the years to come


Stephanie (aka dawningoftime)
Neo3DGfx wrote:The steps of a good man are ordered by the LORD: and he delighteth in his way.
Though he fall, he shall not be utterly cast down: for the LORD upholdeth him with his hand.
(Psalm 37:23-24)

Happy 21st Shadowpaw!
Catspaw wrote:Happy birthday, Shadowpaw! I hope that you manage to find some time to enjoy your day, without having to spend all your time working on stuff for us, the AIO fans! Your work is appreciated! (And I'm glad that you're a Canadian, too!

). Your fellow paw, Catspaw.

- Catspaw
StupendousMan wrote:Happy Birthday Shadowpaw, great job with all the forums and good luck you old man!

SM
Screech wrote:Dear Shadowpaw,

I hope that you have a wonderful birthday, and that this card can bring back some joy to you that you gave to us with this board.
HAPPY BIRTHDAY!
Evil Chick wrote:Shadowpaw,

Happy 21st Birthday!!! Thank you so much for all the work that you have done both on the aiosf, and now on the Town of Odyssey! Your work is very much appreciated! Have a blessed day and a wonderful year!

Evil Chick/happysmiler
AIOfan11 wrote:Happy Birthday! Thanks for all your hard work for us AIO fans.

AIOfan11
Ferder wrote:Happy B Day you groovy fellow Canadian!
crosskritters wrote:--Kat
Paul B wrote:Happy birthday shadowpaww.The new message bord is great.
Have a great day.
OrigamiKid wrote:*sings*Today is Your Birthday. Happy, Happy Birthday. Today is Your Birthday Happy Birthday HEY!

Congratulations Shadowpaw, for making it through another year and putting up with all of us that whole time(Well, at least when you were on the computer.)

~OrigamiKid
PonysHorses wrote:

Dear ShadowPaw,

Happy birthday to you, happy birthday to you...

Happy Birthday! Thanks for being our loving, caring Admin

. Wishing you the bestest birthday ever!

~PH~
Trent DeWhite wrote:Happy 21st Shadowpaw! Thanks a ton for creating the ToO for us AIO fans . . . we appreciate the effort that went into creating it. Heath, hope, and happiness.
-Trent
mellow wrote:thanks for all the hard work and love you but in to this place and at the TH. happy brithday hope this years great and God bless you!
The Top Crusader wrote:Shadowpaw, it's been a sincere pleasure to work with you back at the TH, and I'm thrilled at the success you have here! Happy birthday!