The ToO Tech
This is L4M here, issuing a ToO magazine, called the ToO tech! I will be assigning a team of members to help me with it as the project gets bigger, so PM if you are interested in helping me with it. This first issue is free, a tester to see if you want to subscribe to the rest. Each magazine will cost $1.00. The magazine will include tips for computing, news, new programs, and ways to make your computer faster and more reliable!
NEWS!
Quote:
"Sony: SAN JOSE, Calif. - The massive global recall of batteries Apple products, experts say the company is increasingly becomingmade by Sony Corp. widened Wednesday as Japanese electronics maker Fujitsu Ltd. said it is recalling 287,000 laptop batteries that are at risk of overheating or catching fire.
The move brings the number of lithium-ion batteries being replaced worldwide to more than 7 million, according to the U.S. Consumer Product Safety Commission.
Fujitsu said the recall would affect 224,000 laptops sold outside Japan across 10 models, including the popular Lifebook series. The remaining 63,000 were sold in Japan. Company officials refused to describe the recall's cost.
Fujitsu's decision follows similar moves by other major notebook computer makers, with the first and largest coming from Dell Inc. at 4.2 million, followed by Apple Computer Inc. at 1.8 million. Lenovo Group Ltd. and Toshiba Corp. joined the recall last week.
Hewlett-Packard Co., the world's second-largest PC provider next to Dell, stated Monday it will not be issuing a recall. The company said it reviewed its products with Sony batteries and found that the designs were not prone to the overheating issues other companies seem to face.
Dell's recall, announced in August, came after six instances of overheating or fire involving systems with Sony-made batteries.
The risk of fire or smoke is low, said Julie Vallese, a spokeswoman for the Consumer Product Safety Commission. There were about 50 incidents of burning batteries reported in the past five years, while tens of millions of notebook computers were sold in the U.S., she said.
The risk stems in part from the manufacturing process. The batteries can short-circuit because tiny shards of metal are left in their cells during production, Sony said.
Spokesman Rick Clancy said Sony has added safeguards in the past few years — even before the recall started — to reduce the loose metal pieces, but he stressed that they cannot be eliminated entirely.
The investigation into the matter is continuing, and Clancy said Sony expects to issue an announcement within a few days to nail down the scope of the problem and the number of batteries affected. Apparently Sony Is having some problems with it's laptop batteries that have been issued."
Source: Msnbc.com
Apple worried about Viruses?
Quote:
"Apple computers have long been prized for being virus-free. But as more people use a target for cyber pranksters and criminals writing viruses and other forms of malware.
The threat was highlighted earlier this week after a handful of the company's iPods were shipped with the RavMonE.exe virus, which targeted iPods used with Microsoft Windows-based computers. The virus does not affect Mac's operating system.
According to Apple, the virus affected less than 1 percent of the video iPods available for purchase after September 12, 2006.
The problem is thought to have originated in the manufacturing process by another company that builds iPods for Apple and isn't believed to be a direct attack on the widely popular iPod itself.
Moreover, experts say the iPod isn't likely to become a Petri dish for cyber germs, as it's not directly connected to the Internet and is easily wiped clean and reloaded. But they do believe viruses targeting Apple's Macintosh personal computers will increase.
"As they increase their market share, there will be more of a concentrated effort to write malicious code for the platform," said Jonathan Hoopes, an analyst who covers Apple for ThinkEquity Partners.
Oliver Friedrichs, director of security response at Symantec, a leading anti-virus software vendor, said 72 vulnerabilities were discovered in the Mac's OS X operating system in 2006, up from 19 in 2004.
And Symantec identified six threats of malicious code written for the Mac OS X operating system in the first half of 2006, versus zero in the second half of 2005 and two the year before that.
"It doesn't mean more bugs are being introduced," Friedrichs said. "But it means attackers are increasingly looking at it."
Those numbers are still puny compared to the amount of viruses out there.
Friedrichs said of the 13,000 virus alerts Symantec sends out a month, maybe a dozen are related to the Mac, with the majority intended for Microsoft's Windows platform.
One reason Apple has so far been shielded from nasty code is because its market share is relatively small.
Apple accounted for 3.3 percent of total U.S. computer sales in 2004, and for 4.3 percent in 2005, according to technology research firm International Data Corporation.
Experts say these low numbers, and the unlikelihood that Apple's share will ever account for much higher than the low double digits, is one reason why the Mac will remain relatively safe. These days, they say, viruses are written more for money than fame.
Taking over a Windows-based computer and using it to send millions of pieces of spam, often with advertising or scams attached, to other Windows machines can generate big money . Writing a Mac-based virus, which could only target other Macs, isn't nearly as profitable.
But perhaps a bigger reason for Apple's seemingly safe position is the stability of Mac OS X.
Hoopes said Mac OS X is based on the UNIX operating system, which was developed by Bell Labs in the 1960's and at the University of California, Berkeley, through the 1970s. Variants of Unix power most of the servers on the Internet and the system has a reputation for security.
Although experts give Microsoft credit for greatly improving the security of its Windows operating system over the last few years, most still say Apple has the Seattle software giant beat.
"The Mac OS X has a higher security profile," said Ray Wagner, a vice president at Gartner, a technology research firm. "It's not generating anywhere near the same rate of problems, even on a per capita basis."
Microsoft says virus-creators are starting to train their sights on other platforms.
"As we've made improvements to the security of Microsoft software and services, we've seen cyber criminals shift their focus to other platforms and applications," said Stephen Toulouse, Microsoft's security program manager.
Apple did not comment on this story."
Source: Cnn.com
Mozilla Firefox 2.0 available!
That's Right! All you firefox lovers out there go swarm to Mozilla.org and download that new shiny release! Mozilla is offering firefox to Mac OSX Linux and windows. If you would like a review of all of it's new features before you download it, visit this link:
http://wiki.mozilla.org/Firefox2/Features
Lesson #1 Reducing the menu delay.
It is probably a good idea to create a system restore point before you perform this, just in case. You can never be too cautious.
Whenever you move your mouse over an item that expands in the start menu, you have to wait for the system to expand that menu and show you the submenu. By default, your system is configured to wait 400 milliseconds before it automatically expands any submenu. Navigating through the start menu is when you will notice this delay the most. Always thought it was your computer? No.
Using the system registry editor you can remove this delay by modifying the amount of time the computer waits before it automatically expands a submenu.
The best value for the menu delay is different for different every person. You might like the submenu to show up instantly, although others might like it to appear after the mouse hovers over the item for a little while, or vice versa. The best way to fine-tune this setting is by testing it a few times with different values. If you want the submenu to show up instantly. Then set the delay at 0. this may have a bad effect for some that do not have very fast computers, as just dragging your mouse over the start menu will cause your computer to open every submenu over which the mouse is dragged. Doing so will cause your computer to do more work than necessary, and if your computer is slow, then everything on your computer will slow down as a result when the menus are expanding. If you have a fast computer, then your computer will have no problem keeping up. I prefer to set my menu delay at 100 milliseconds because this does not open up any menu the mouse moves over but still gives a fast response.
Okay, how to perform this action:
1. Start up the registry editor by clicking Start, and selecting Run. Then type regedit in the box and click OK.
2. Once the registry editor has opened, navigate to HKEY_CURRENT_USER, Control Panel, and then Desktop.
3. Look for the MenuShowDelay entry and right click it and select modify, as shown in figure 1.
4. Enter the new value in the box and click OK.
5. close the registry and restart your computer to see the new changes.
FIGURE 1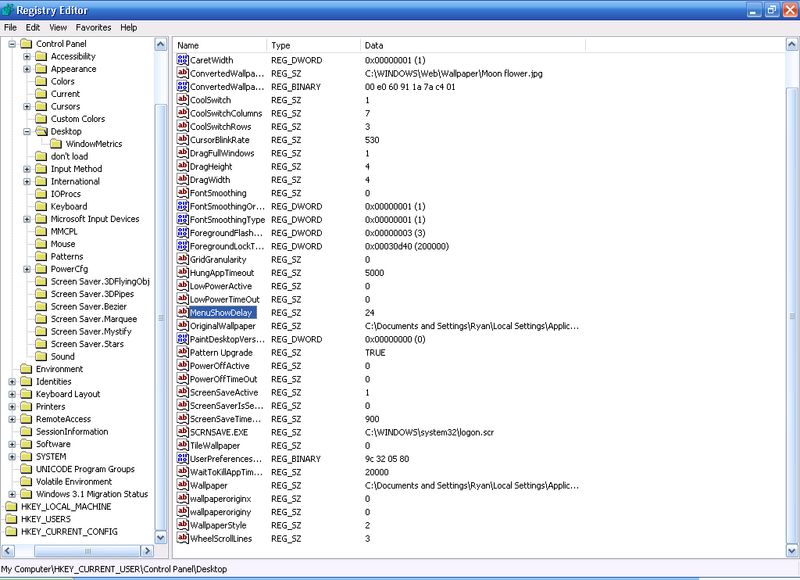 If you ever have problems after changing the menu delay, such as the submenus never showing up, then go back into the system Registry and make sure you did not type in a large value by accident, Remember that the default value is 400 milliseconds, in case you want to revert to the default.
Also, playing with the registry, is not a good idea unless you know what you are doing. You can cause some serious problems with your computer, so messing with it, is not advised.
Cool programs
AVG Anti virus from Grisoft USA
Freeware version:
Description: AVG anti-virus is a great AV application, that will protect your computer from viruses, for free. You can grab a download at
www.grisoft.com/us/us_dwnl_free.php
Sandra standard, from SISoftware:
Free feature limited version for windows
Description: Sandra standard is a benchmarking and information suite. It provides several different benchmarking tests, as well as boatloads of system stats. Visit
www.sisoftware.co.uk
for more information on this awesome program.
Tuneup utilities
Here is a site, that offers a program called tuneup utilities, it is a program, for making your computer better! It offers a load of different things, from testing your computer, cleaning up your computer, changing to different looks, boot screens, and many other useful tools. See
www.tune-up.com
I will be posting more of these, probably one a week to start out with, if you would like to be involved in the project, PM me.
Ry
. If you would like to be involved, please PM me. Tell me what you thought about the magazine!