Yes folks, that's right. I decided to start a paper! You see, I have grown a tad tired of all this sensationalism that comes with journalism today. All the twisting of words and facts to sell papers, all in the name of "truth", well it just didn't settle right for me. So I decided to do something about it! I give you, the "Truth Tribune". In this paper I will give you the facts, untwisted. I will tell it like it is, without using sensationalism to get readers. I rely on good old fashioned honest journalism, just like the Odyssey Times. I hope to shed light on some issues, help people to see the other side of things
So without further adieu, I give you the first issue. Albeit it's not much, only one article, but more will come eventually. So in the meantime, enjoy the first issue of "Truth Tribune".
Exposing The Scribbler
-By Eugene Blackgaard
I've never liked the Scribbler terribly much, truth be known. He's an OK guy, but I don't agree with his newsgathering methods. I happened, however, to run into the Scribbler in person, and was able to record his doings. I believe I was able to expose a bit of the "real Scribbler."
You see, I am a good friend of Kermit the Frog, and I happened to be visiting the set of the Muppet Show one day. It was there that Scribbler happened to arrive, and I learned many interesting things about this man. For one who is so obsessed with telling the "truth", it's interesting he never told us his real name: "Fleet Scribbler."
The Scribbler is infamous for his interviews and analyses of people, so I thought it'd be interesting to write an article about him. Have him see what it's like to be on the receiving end of the pen and notepad. Anyway, I took some photos of the whole ordeal, and even recorded some sound clips of Scribbler talking to the Muppet cast! So, view and listen for yourself.
May the "truth" be known, Scribbler. Let's see exactly what type of guy you are.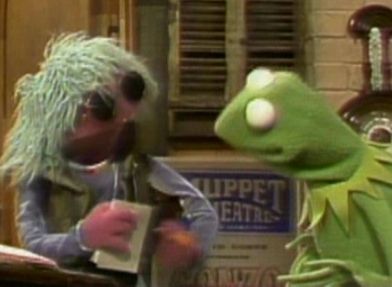 Kermit and Scribbler.
Click here to hear the sound clip.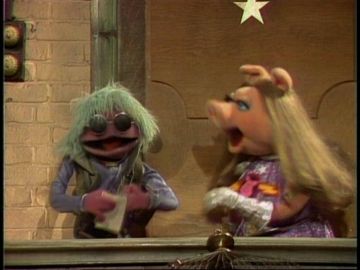 Scribbler woos Miss Piggy.
Click here to hear the sound clip.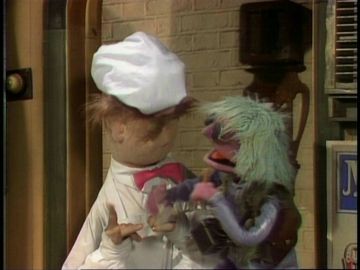 Scribbler Interviews the Swedish Chef!
Click here to hear the sound clip.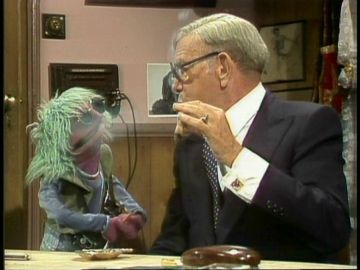 Scribbler outfoxed by George Burns!
Click here to hear the sound clip.
-More Photos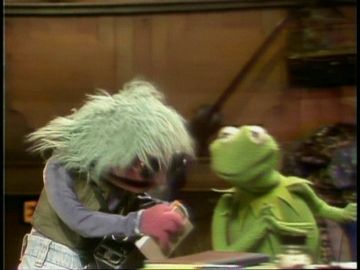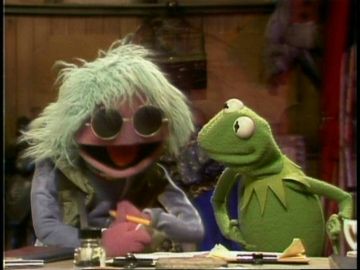 So, whether your view of the Scribbler has changed, or if you think that's pretty much no different than he normally acts, I hope you've enjoyed this inside look at: "The Scribbler".