The Odyssey Times
Six People Run for Mayor, but Who Will Win?
Campaigning and speeches have begun and we can only imagine what will happen and who will win? But, what will make an awesome mayor and why? Many people of The ToO are saying it's listening and a sense of duty. Shouldn't this cyber election be just like it were in the real world? Vote for who you think would be best, choices always come back on you.
The Top Crusader: 39%
Mellow: 21%
Simbelmyne34: 9%
Elf of Rivendell: 18%
DanJackieChan: 12%
______________________________________________________
Add payed for the Simbelmyne34 campaigne.
______________________________________________________
Contests
There aren't too many contests yet being such a fresh board of course, but we have asked the creators of the contests so far to write something of their contests...
TOTS
Creator and Author: AIO PSYCHE
It's the TO Talent Show, the contest that started it all! The TOTS is the Town of Odyssey version of the TH Talent Show, or THTS. The TOO version still has the THTS's trademark prize; picking avys for each judge to use! Plus, now that we have money to use, we will now award a $300 dollar prize along with the picking the avy prize! The entry fee is only $20. We will accept entries for a period of one week, then the judges and I will pick 7 finalists. Each contestant will have a new pic every week. Then each week for 7 weeks, we'll have a poll set up. You'll vote for your fav, then whoever has the lowest number of votes at the end of the week will be out of the TOTS. We'll do this until we're down to two finalists! Anyone can enter! Send in your entry today to Monday! Please label your entry PM with your screen name here on the TO.
___________________________________________________
ToO Apprentice
Bmuntz welcomes one and all to join in ToO Apprentice. The ToO Apprentice is the Apprentice just without the bad comb over. It challenges the contestants in a wide range of ways. From negotiating prices to selling ideas to members or coming up with a new ad campaign for a shop. Its only $15 dollars to enter and you are sure to have a lot of fun. So join now. Also Bmuntz will be accepting ideas for task that your business would like to be involved in. So what are you waiting for? Go on over to the Odyssey 105 and have fun!
______________________________________________________
KYDS Radio -- First Broadcast!
One word: Incredible! As soon as I tuned in to the very first broadcast of KYDS Radio I didn't know what to expect. I heard a song and then our own Stupendous Man's voice and then more music and AIO! What could be better? It's perfect for surfing the web, checking emails and of course, posting on ToO! With our favorite Adventures in Odyssey episodes and songs from the most popular Christian artists and soon different shows from our own citizens, you will be hooked!
_______________________________________________________
Each week we will have one person in our community to be interviewed this same set of questions. This week, we thought best for it to be our creator, Shadowpaw.
Shadowpaw Interview
Where were you Born?
In a hospital bed
. I was born in Calgary's General Hospital 21 years ago. Unfortunately they tore down that hospital 7 or 8 years ago and so my birthplace is no more!
If you could invite three people for dinner, alive or dead, who would they be?
Years ago my older brother was asked a similar question on "Kid's Street", a popular television show in Calgary in the early 90's. He could only invite one person though, and the answer he gave was "Slimer" from the Ghostbusters
. The host asked what he thought Slimer would order, and my brother (who was 8 at the time) said "Everything!"... I have to agree. So Slimer, while not exactly alive...
is
a "ghost", so I guess he's dead
. I would also like to invite Pope John Paul II, who recently left us. A very courageous and Godly man and I would love to hear what he would have to say over the course of supper. I once saw the Pope in Rome, but I was so far away that it would be a joy to have some one on one time with him! And last, but certainly not least, I would like to have dinner with Jarome Iginla. He's a hockey player for the Calgary Flames and one of the nicest, must humble athletes you'll ever meet. I'd just love to sit down with him and hear what he has to say and of course, talk about hockey... the sport every Canadian should love!
So Slimer, Pope John Paul II, and Jarome Iginla... what a crazy table that would be!
What's your favorite color?
People just have to have a favorite of everything don't they? The way I see it, all colors are equal! Violet just happens to be more attractive than grey, and pink looks better on girls than it does on guys. So I don't really have a favorite... I look forward to a world where all colors are treated with the same dignity and respect and no color gets left out.
Who would play you in a movie?
That question has many answers. I've always loved Superman, so probably him. He's got all the abilities and he's just so down to earth. So I think it would be loads of fun to play him. If not him, one of those Teenage Mutant Ninja turtle guys from those old movies
. They were awesome and had some really cool toys! But I don't know if I would want to be a
turtle
for very long. At least being Clark Kent I get a life when I'm not out saving the world, you know?
What's your secret vice?
Isaac Morton and I share the same secret vice: Chronic Procrastinitus. I always have a hard time starting something because I keep putting it off. School work is a prime example of this, as I usually leave things to the last minute. But there are certain things that I enjoy doing (such as The Soda Fountain or The Town of Odyssey) in which I always put first... even when I shouldn't.
If you could be a car, which would it be?
I know very little about cars and I'm not really into them, so I don't
really
know... but I would love to be the Batmobile! I mean who doesn't love the Batmobile? I'm bullet proof, can drive myself without needing an actual person present, can fly and shoot things from the sky and my garage is a huge cave underneath a mansion. Really, it's the coolest thing ever created and so I most certainly would like to
be
the coolest thing ever created!
Name the oddest item in your wallet?
Get this: Paul McCusker's business card! When I did my internship in Colorado I put his business card in my wallet. It's never left my side. I don't know why I carry it around with me everywhere (Marshal Younger and John Fornof's cards are also in there) but on the rare occasion that I've run into someone who actually knows what Odyssey is, I pull out the card to try and impress them
. Unfortunately even if they DO know about Odyssey, they have no idea who Paul McCusker is... so the impact is lessened greatly.
What's your favorite quote?
I don't even know why. It's not a memorable quote, a funny quote, an insightful quote or anything else. But it's a quote that my younger brother and I have repeated over and over and over again for years. So I guess it's the sentimental value of the quote I like:
"But he's not my friend, he's an orphan." - Timmy Riley
Told you it wasn't great! But I still laugh every time, thinking a person can't be a friend and an orphan at the same time
.
What CD is in your CD player right now?
I shouldn't even be admitting this to the Odyssey Times... but Down Gilead Lane discs 4, 5, and 6 of Season 2. I actually own all of the DGL shows, but haven't had a chance to listen to them, so I'm trying to catch up now. It's not a bad series, but nowhere near as good as Adventures in Odyssey. And some of the acting
really
suffers, but the stories are good and enforce strong Christian values!
If you could have one thing in the world, what would it be?
Well it doesn't actually exist, but a time machine! That would be the neatest thing. I've always been fascinated with time travel and would
love
it if could back and relive parts of my life. Or even go back and see things I wasn't alive to see. Though I would like to go back and change things in the past, just for fun and see what happens. I would probably end up making it so I was never born or something, but wouldn't it be neat to see how history would change if you were able to prevent the World Wars or create a documentary (with a video camera) about the life of Jesus?! Just things like that.
Then again, for everyone else's sake, it's probably a good idea I don't get my hands on one!
__________________________________________________________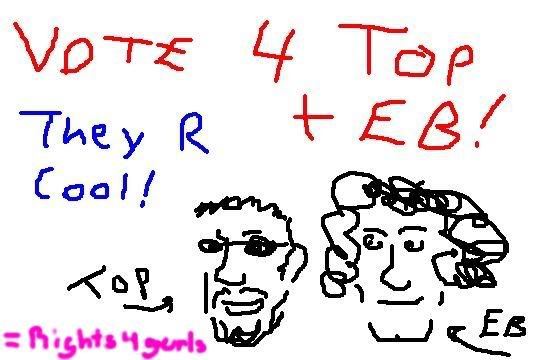 __________________________________________________________
Please send all letters for the Odyssey times to Monday, as well as advertising propositions.