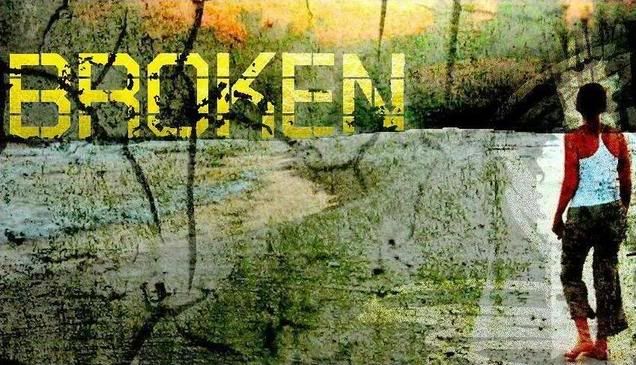 This slightly delayed issue of BROKEN is well worth the wait IMO. It is quite unique; It presents an personal (and I mean personal) story, and a poem; And they both go together. This is a really emotional story; In fact, it might be a bit much for alot of younger readers. But this needs to be shared with everyone. And I am extremely honored to present it here. There isn't much left to say, so without further ado, here is the third issue of BROKEN.
BROKEN HEARTS & CHANGED PLANS
By The Top Crusader
This is not something I normally do....it's not the perception I like to leave on the good people of the internet. But, I think there comes a time in every persons life where they must be broken, and due to various reasons, I think the time to share my story is now. I want all of you to learn from my lessons, possibly without sharing the same mistakes I made along the way—and I want you to see how God can turn something that seems so painful in your life around, and make it a defining moment, something that you will always remember as the event that set you on the right path, and made you the person you are.
Like any good Top story......it all began......with a girl.
Shocking though it may be, I never had a single girlfriend throughout high school, and only two big "crushes" up to that point in my life. However, my senior year of high school, I began to develop a friendship with a wonderful young lady in my class—Christi. Graduation came, and by then we were together a lot at school, and spent many late nights talking over instant messenger (I had not yet discovered the use for telephones at the time). Well, basically, as soon as we were out of school, we both ingeniously realized that there was more than just "friendship" between us, and we began dating.
I couldn't have been happier. Despite some easy to ignore (at the time) differences, we seemed soul mates in many ways. I had a new best friend.
Summer progressed, though, and we got to know each other better......and God had a change of plan for us......it was decided, then, that despite our feelings, it wasn't in our best interest to be together as we were. We vowed to remain good friends, but the dating end of our relationship was at an end.
Things didn't turn out quite so well.
Christi cared very deeply for me, and wanted to be there for me......but, she was ready to move on. I, on the other hand, was not. I could not wrap my mind around the concept that it was over, even though deep down I knew that it was indeed for the best.
So, I expressed my feelings. I talked to her for hours every day, just as before.....though it became more about whining how depressed I was, how much I wished we could be together, how I knew no one else like her was out there for me........Effectively, I was stabbing her just a little deeper every time, though I didn't realize it. Because of my unwillingness to let go, I selfishly indulged in my self-pity, and worst of all, dragged her, the girl I professed love for, along with me. Try as she might, she couldn't move on with life, because I was always right at her heels. Something I regret so much today.
I drug her down for months.......and finally, she had to do what she had to do. She cut off all communication with me, for a long time, and at first, I was devastated. For so long she had been my crutch! But finally.......it all began to dawn on me. She was my crutch in life, not God. And though she didn't realize it, putting up with me as long as she did was only feeding my addiction to her. So much contact wouldn't allow us to part and grow separately as it was apparent God desired for us.
It's a humbling experience to look back and realize how I blatantly ignored God's will in my life, as well as Christi's. It still makes me sad when I think back to how much I hurt the person who meant the most to me in the world at the time, because I didn't want to let go. Also, I see now how I spent so long wrapped up in her; it stunted my growth, spiritually and otherwise.
I came out of it with so much more, though. I realize firsthand quite a bit more of how the Lord works, and it has made me who I am today. As a Christian, who am I, or any of you, to fear for tomorrow, to worry about the future, or even to stress about today? God has it all under control, and if He wanted me with Christi, well........no need to worry and be depressed about it.......because He would work it out. If that's not the case......well........no need to worry and be depressed about it.......it's time to move on, because God has an even MORE amazing plan. Probably something completely unexpected. But since that time, though there have been rough spots in my life here and there, I have remembered that, and God has not failed me. Circumstances change and God presents something better than you could ever have imagined.......we just have to be ready to open our eyes and see it, not blinded by our own stubborn thoughts on what your life should be.
I don't entirely regret my past mistakes, though. I'm glad I experienced what I experienced, because it made me a better person, and it sculpted me to be who I am today. Also, I would hope that the stupidity of my past can be a lesson to other people, maybe some of you here on the ToO. This ordeal of mine has been on my mind lately for various reasons, but I finally decided to come out with it today due to the Sunday morning service at my church. It seemed to be a good companion to my story, so I will post the notes for you now. Additionally, they usually put an MP3 of the service up on the website, so I will be happy to pass that along to anyone interested once it is done.
Anyway, the points of the sermon:
Change of Plans
Luke 8:22-25
I. Life is Unpredictable.
a. Too many times, our happiness revolves around our circumstances.
b. Dramatic events will either lead us closer to God or move us further away.
II. We all have faith in something
a. Why don't we put our faith in God first, instead of ourselves?
b. Why don't we start acting like God is God?
c. Why don't we realize who is in the boat?
III. God will use circumstances to make us smaller and Him bigger.
a. He is working behind the scenes.
b. He can be trusted.
And that, friends, is that. I do hope it can help some of you. Feel free to drop me a PM if any of ya'll would like to talk about anything.
Saved by Grace,
~Brian
Stab
By AIOP
Do you love me?
Do you need me?
Do really need to know me?
I feel pressed against a window
I want you but I can't
He is telling me no
He is telling me to go
But I won't
I can't
I want to stab you
I could let you go
I could let you move on
But I won't
I will stab you
With every single action
With every single word
I need to leave you
But I won't do it
I will stab you
I hope you enjoyed this issue. May you all have a joyful week. God bless.