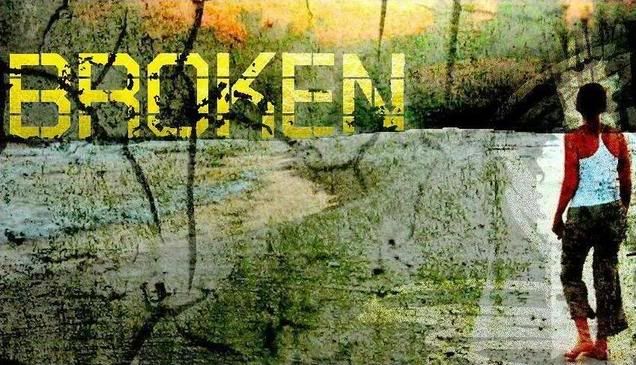 Hello everyone! I am putting this out in my dear brother- in- Christ's absence. I hope it is up to his standards.
How has your week been? Mine has been, well I will tell you.
I was going through a rough time on Saturday night and I was up until three in the morning, A whole bunch of poems came out, some of which I will share. That next morning in church, I felt the incredible urge to lie prostrate before God because of all the things I had weighing on my heart. I knew God knew that I felt that way. So as I sat there listening to the sermon I started crying. So I had a "Broken moment"
Since Sunday morning I have been drawn towards God and his word. I did have a little bit of a tough time with Valentines Day, but someone helped me. So it has really been a week of ups and downs. Three words came to mind when thought of what we looked over our week, Grace, Faith and Love. So that is the theme.

Grace Faith and Love

Break Me
Andrea Meltsner
I sit her and ponder my feelings
Blue I feel, guess some things never change.
I want to cry tears of sorrow and longing for what I had.
But I cant.
My tears are gone but memories still burn.
Where am I who am I and why am I even living this life?
The empty rituals of life,
And the distantness of my heart,
In this holy place you draw me.
I know you lead, I know you bring and heal
I know your grace and all that stuff…
But why am I dull? Where is my zeal?
Empty and alone with you in my arms.
You hold me and tell me that You love me so
You bring me people, oh so many people
Who care and love, provide and protect.
I still stand before you and complain,
Complain it is not enough.
Things are broken all around me
Still somehow I cling to the far of knowledge
YOU are here and YOU lead us all.
You are here, but where am I?
Won't you please break me?
I feel it is time.
I feel I haven't changed since that night,
When you came and broke in my shell.
People tell me I have,
And I guess they are right,
Still, I am the same
There are many,
Oh so many things I do say and think
That are wrong. Or just make me fell bad.
So please, won't you?
Make me like I was, right after the first time
I seemed so full of you,
So wanting to have more
Now I stand in front of all who love me
And feel nothing
I stand in front of your alter and Nothing
I stand in my broken world and NOTHING
I look at your face and your inspired words AND NOTHING!
Please break me, please. Where am I? Who am I? And why did I choose you?
Break me, and the answers will come.
Just Pour
Andrea Meltsner
Just pour yourself into my cup
Just place your self into my hand.
Let me taste your holiness
Your spirit and life.
I had a taste once,
Or what I thought was a taste.
I long for it, I feel near it
Yet so distant
Why cant I get it.
Just pour your spirit down on me
Just lend your healing touch to my hands.
My heart longs for beauty,
And all that comes with who you made me,
Though I don't know who that is.
Just pour you spirit down on me
Just lend your voice in my ear.
Oh vanity! Oh society!
Why must you plague us?
I fell that It is nessicarly
To shut myself from the world
Yet I must live here amongst
Amongst the many wandering souls.
Just pour you spirit down on me,
Just seep your love into my bones.
Unwittingly I act
As emotions move me
In a dangerous tango,
I see I act I do,
I say I feel I react.
Just pour you spirit in my soul
Just pour you forgiveness into my heart
Tomorrow I place my unworthy feet,
Inside your temple walls.
Sinfully I will stand as if the most pious of all,
Amongst your children I will walk
Still sinfully ignorant.
Just pour you spirit down on me
Just pour your grace, that lovely grace on my wretched self.
I once sang that sweet old song,
With passion I cried out
With the voice you blessed me with
Yet now it is just a song and just some words
And just a bitter- sweet memory
Amazing grace, how sweet the sound that saved a wretch like me
I once was lost and now I am found. Was blind and now I see.
Just pour your grace on me,
Just pour your love into my heart
Just pour
Just pour
This is from Jill Phillip's website…it is an explanation of the song and the lyrics.

10. Sacred
from "Writing on the Wall"

About the song:
A song about the benefits of patience and not compromising your beliefs for a quick payoff. I am a firm believer in looking at the long term benefit of decisions. The Bible says that Christ, for the joy set before Him, endured the cross, scorning it's shame, and is now seated at the right hand of the Father. He didn't have to suffer and die, but His eyes were on the joy set before Him and the hope He could bring to all of us by enduring. I think that is amazing and I try to remind myself of these things when I feel impatient.
Lyrics:
It's the cliched writing on the wall
Funny how it's been there all along
And all the while you've listened to
Anyone who had a point of view on what you should do
The liars in your head are growing loud
They say you're in too deep to turn back now
And answers seem so hard to find
You wonder if you still can change your mind... change your mind
There's something to be said for patience
So hold on to what you know is sacred
Don't let your only dream be taken
And cashed in for everything you've hated
You have something there that can't be sold
A lifetime full of secrets to be told
And it is not too late to choose
The narrow winding way that few men do... so few men do
1 Corinthians 13 (italics mine)
1If I speak in the tongues[a] of men and of angels, but have not love, I am only a resounding gong or a clanging cymbal. 2If I have the gift of prophecy and can fathom all mysteries and all knowledge, and if I have a faith that can move mountains, but have not love, I am nothing. 3If I give all I possess to the poor and surrender my body to the flames,[b] but have not love, I gain nothing.
4Love is patient, love is kind. It does not envy, it does not boast, it is not proud. 5It is not rude, it is not self-seeking, it is not easily angered, it keeps no record of wrongs. 6Love does not delight in evil but rejoices with the truth. 7It always protects, always trusts, always hopes, always perseveres.

8Love never fails
. But where there are prophecies, they will cease; where there are tongues, they will be stilled; where there is knowledge, it will pass away. 9For we know in part and we prophesy in part, 10but when perfection comes, the imperfect disappears. 11When I was a child, I talked like a child, I thought like a child, I reasoned like a child. When I became a man, I put childish ways behind me. 12Now we see but a poor reflection as in a mirror; then we shall see face to face. Now I know in part; then I shall know fully, even as I am fully known.
13And now these three remain: faith, hope and love. But the greatest of these is love.
I hope you enjoyed this issue. God Bless all of you. Have a great week!