This week, I, AIOFan11 stepped up to the role of editor!
Welcome to the Odyssey Times: Edition 16! This week is the second and last week for the Apprentices' to be involved in the writing of the articles. We will then pick a winner and they will become a writer for the Odyssey Times! So enjoy all of the wonderful articles below!
Agent DeWhite, our add manager, would like you to know...
Quote:
Greetings and salutations fellow citizens of the esteemed Town of Odyssey! You may have noticed the advertisements we displayed in Edition #15 – the previous issue. Yes, we will now advertise anyone's shop in our newspaper for a very reasonable fee: $15 for one issue; $45 for four (Price subject to change as interest varies). If you want that ad in our newspaper, please don't hesitate to pm myself - Agent DeWhite. And today will be just fine!
The Unofficial Guide to Gowers Field
By Sarai Binghamton who also made the Odyssey Times banner above! She makes the most wonderful graphics!
Gower's Field: Gow-erz Feeld. The field at the ToO that is open for Role Players to...what else? Role play!
'So, what is Role Playing?' you may ask, 'I've heard about it, but I've never really gotten the hang of it.' Don't feel bad. There are a lot of people who don't get Role Playing - even those who have been Role Playing for a long time will say that not everyone is made for roleplaying.
Well, Role Playing is basically what it is - playing a role and weaving a storyline. As hard as that may seem, all you need is to be able to write. Sounds simple now, doesn't it? Well, it's not *that* simple. Writing skills are very hard to develop - although some might have them at the drop of a hat, for others, it takes time.
There are a million tips anyone could give you about Role Playing, but I'm not going to hand you tips and push you into deep water. New role players need the whole story, eh? There are only three things you must remember. A) Your character must be believable and original, B) Your writing needs unity and coherence, and C) You must learn to adapt to twists in the storyline.
A) Your character needs to be believable and original. Believability comes when you learn that your character is not perfect. No person is perfect - so why should your character be? I've learned from experience - a character who is 'perfect' gets on people's nerves. The problem with so many characters is that the Role Player often puts qualities of themselves - or what they'd always want to be - into their character, basically labeling that their brainchild. Perfect characters can do anything from walking through walls, to always having the last word in a verbal exchange. Please avoid perfection. It's not fun for those who have to wade through all this mental stuff about perfect characters.
B) Your writing needs unity and coherence. Unity is the ability to unify ideas and storylines into one central theme. Just like it's boring to have an RPG where nothing gets done and there are no problems, it's also annoying when there are a billion separate sideplots others create for their own characters. Unity is important because a scattered RPG with dozens of people doing their own thing is a dead RPG. Secondly, coherence is needed. Coherence is the ability for anyone to understand your writing. This is where we get into tricky water. Who likes spelling errors? Then again - who spells just about everything correctly? The idea of coherence is that everyone *should* understand your writing. No, I don't mean that little five-year-olds could read it because it's so confounded short. I mean that you need correct 'conventions and mechanics' - spelling and grammar to those who haven't read the new 'politically correct school handbook'.
Look at this sentence, can you understand it?
Some Strange Person wrote:
she waked thru the hals nad loked 4 her lloker she couldnt find it so, i lookd evrywere, she said, and i cant find it
Maybe you needed to read it at least two times over to get what she was saying. That's the problem. You need to have your writing understandable. Nothing is fun when you're wasting time trying to get what the writer is saying. I'm not asking you to have perfect spelling and grammar. But do try. Read your own writing over to see if you have spelling or grammar errors. It helps.
C) You must learn to adapt to twists in the storyline. Of course, you shouldn't go and spam each RPG to give people an idea of what a plot twist is. But what if someone else powergames? Does it give you the right to powergame right back? The answer is 'NO'. If your mind is screaming 'BUT they did it to me!', then you need to learn to take a hit and give a hit. Powergaming (controlling another person's character's actions/thoughts/words) is a big no-no in RP'ing. A good sign of a talented RP-er is that you can take a blow as well as give a blow. It's all about the balance - balance your 'uber-l33t' character with some humanity.
Role Playing is like a three-legged stool. You need to have all three components in order to have an RPG everyone enjoys. It's important not just so that you can be considered a cool Role Player. It's important to help other people enjoy the RPG.
I hope you enjoyed reading about Role Playing! If you have *any* questions, please PM me.
-Apprentice Sarai Binghamton-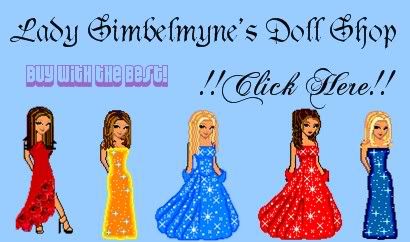 -Advertisement-
The Case of the Switched Identities

By the one and only Elf of Rivendell who is now going by Cowboy of Texas!
It's sweeping the town. Wooton described it as an epidemic. And for all we know…it is! It started with The Top Crusader and Continental Admiral morphing identities. And before we knew it, cheap imitations began popping up—Frank and Trent DeWhite, Catspaw and AIOFan11, gimp80995 and Rachael, Cowboy and Elf*cough*…and the list goes on. Members spend money and time to change their usernames and titles, which they—hopefully—will change back sometime in the future anyway. Is this merely a trend… or is it some thing bigger and deadlier?
Trends have existed in the Town of Odyssey as long as we can remember: quizzes, the "May Zarkouni Live Forever" bumper stickers (or signatures) and the wedding craze, to name just a few. However, this current one involves switching identities—some switch only avatars and signatures, but others change everything, including their usernames! How horribly confusing!
Think of the consequences that may follow. This certainly may seem innocent at first. So a few users may get confused, and much merriment will follow…right? But what if some don't catch on?
I present to you: an example.
Returning from his indefinite hiatus (or perhaps escaping from his abductees), the great Shadowpaw takes a look around his kingdom again. Everything seems to be going quite well. A few members seem to have suddenly popped into the "Top 10 Posters" list, but that's normal, considering what the members of the ToO are like. However, nothing will prepare him for what he will find when he opens up the mod board.
He shakes his head in disbelief before staring at the board again, dropping his cordless paw-shaped mouse from his desk in the process. "…those people weren't ever appointed as mods! There couldn't have been another election in my absence! What in Odyssey—" he passes out. Just when he'd returned, too. For shame. And paw-shaped mice aren't entirely common. He had better not have broken it.
Disclaimer: The above example is extreme.
If this is an epidemic, it's certainly spreading very quickly. Citizens, be warned. Things may not be as they seem. Double-check before sending a private message. Who you're talking to might actually be someone else…perhaps even Jared!
And enjoy the chaos. What would the ToO be without it?
-Advertisement-
The Crystal
By Hakeber, who is the ever avatarless!
It was a normal evening with the sun setting gracefully over the horizon and some blue-winged teals chirping on a maple tree in my garden. I was sitting in my living room watching. I was sitting in my living room watching my 65-inch plasma TV.
Suddenly, my cordless phone rang. I immediately jumped to attention and frantically pulled my sofa cushions to find my phone, I then felt something hard and long. I pulled it out quick and put it to my ear. Then I realized it was my television remote control.
I then remembered I left the phone on my writing desk. I ran to my study and grabbed the phone and said: "Hello, who is this?"
I received and immediate reply: "It's me. P. K. Denon, the President of Paxemia.
"P…P... President? Er…er…what do you want, sir?"
"I have a mission for you."
"Why me? I am only a professor of geology at the Paxemian University."
"Never mind, the crystal has been stolen."
"The...the…crystal, sir?"
"Yes. It was stolen during President Chertat of Trengen's visit. "
"That Chertath, not Chertat, sir."
"Anyway, we believe that he stole it. Meet me behind the grand oak tree in front of the border at 5am tomorrow with your travel bag."
"Right. I'll be there. Over and out."
With that I rushed to my room and packed everything I could think of.
The next morning, I arrived at the tree. The President greeted me. Then he gave me a necklace. It would sense the crystal. Also,, he gave me a small remote control. The red button would make me go through a wall and the blue button would make me invisible. Also accompanying me would be Sheera, the striped cat and Carak the hawk.
We quickly planned our way across the border. Sheera and Carak would distract the guards while I search for the remote control for the gate. It went according to our plan except that Sheera hurt his paw and Carak lost nine feathers (it actually counted them!).
I would describe those moments as tense, sharp, and tricky. When we crossed the border the guards ran after us. Good thing I still had the remote control. As soon as they ran to the checkpoint, I pressed a button and the gate closed on them. We rejoiced greatly. My heart had almost frozen when the guards tried to run across the border. It's a good thing the gate managed to close in time. In front of us was our next challenge, THE BHIFAN MOUNTAINS!
My hand clumsily and nervously rummaged my bag for my torch. As we entered I caught sight of a leather pouch in front of the cave. Carak grabbed it and opened it with its sharp claws. It then snatched out of it a small package and a map drawn of the cave through the Bhifan Mountains. I then ripped open the package. It contained a box of matches, a candle, a candle holder, and a small box filled with extra candles. Also present was a small note:
The Moss Covered Rock
Hmm…, there was only one moss-covered rock here. Without thinking Sheera pushed it aside to reveal a large crank.
I pulled it and some whirring sounds were heard. I then noticed a dim light miles into the cave. Of course, the crank moved a few wheels which when turned, would pull away a board from in front of the light. Which was kept burning by a Paxemian which moved to Trengen as a spy. I eagerly ran forward and slipped, falling on my face. Sheera came and I held on to its back and stood up. I then lighted the candle on the holder.
Every word I said echoed, bouncing of and on, getting softer and softer. Sometimes a little creak would be heard.
Once, I fell into a hole. I took a rope from my bag and gave it to Carak, who flew down to take it. Carak flew back up and gave it to Sheera. Who stubbornly jumped down to "save" me. Carak had to fly out to of the cave through a hole in the roof, and call twenty other birds, and then pull us out with their help.
Carak made friends with a few bats. That at least protected us from those creatures. The rest of the journey was uneventful.
We reached the end of the cave on July 27th 1968. We stayed overnight at a Mr. Anthropo's house. We then continued our journey into, the dreaded FOREST OF DIVESPAR.
The President of Paxemia had been able to tell me less about the forest than anything else. There were strange noises in the forest, not of birds chirping, but of eerie wailing.
"Sheera, I want you to scare away any wild animals in there. Carak, you fly above Sheera."
"Grrr…Yes."
"Whatever, Hmph!"
"What?"
"Nothing, nothing."
"You want to carry my bag?"
"No, never mind."
We fought off all the wild animals in the forest. We destroyed the snakes in the swamp by poisoning the water. We made friends with the native tribes. After all our problems were over, our journey became better. Ali Gator, a native, guided us. Our fears were conquered, at least for awhile.
As we walked through the forest, a net fell on top of us. We looked up and s…s…saw President Chertath!!! We screamed for help and the natives heard us. They drove away the President and freed us.
Our journey through the forest ended. We were now faced with our next destination, The Tower where the crystal was held.
To get to the Tower we had to cross the Imnolia Plain. The people were as silent as mice. They were very stubborn.
Anyway, when we got to the tower, we pretended I was bringing Sheera and Carak as guinea pigs for experiments on the Crystal. We then went to the tower and distracted the guards by setting off the fire alarm. We then climbed up the staircase. The higher we climbed, the faster the necklace that could sense the crystal blinked.
When we got to the highest level, it started beeping like crazy. It beeped even faster when I went to the fire equipment cupboard. I opened the cupboard and saw a crank. Then suddenly part of the wall opened and in front of me was the crystal. I grabbed it and pressed its shiny body.
Then suddenly, there was a loud voice:
"INTRUDER ALERT!!! INTRUDER ALERT!!"
I was then surrounded by soldiers.
"Surrender of die!" said one of the soldiers, pointing a 30 caliber pistol in my face.
"Never! In the name of the President of Paxemia, set me free!"
"Crazy! You're not in Paxemia."
I then remembered that if you wanted to transport yourself and the crystal, you had to put both your hands on it and say: "I will never surrender!" The crystal would then transport me and all animals present into Paxemia.
I did so, and here I am. I won't go on anymore adventures like this for awhile. This was a tiring journey.
-Advertisement-
Quote of the Week!
By Sarai Binghamton, also known as F_F!
Frank wrote:
I'm a jar of peanut butter. Please don't open me or throw me against a wall so that I break into a million pieces and make a big mess.
*calmly spreads herself onto two slices of bread*
My Dreams
By Citrus Basil who had to drop out of the Apprentice contest, but still managed to write us up some poems!
My Nina Place is like the serene forest; filled with life.
The neighborhood reminds me of a flock of geese, who help each other fly;
Who continue to help accomplish my dreams.
After being at school all day long, my home gives me a hug.
For home is not the house, but the people who love there.
The people I call my family. The people who inspire my dreams.
My house smells as fresh as dairy farm air…
But, I still love it because it's where my home is.
The home that gives me my dreams.
My bedroom is my own house, a haven if you will.
It's where my innermost heart is exposed and where my dreams begin.
I close my brown eyes, and I see what I've dreamt up in my dreams.
My dreams are never forgotten like yesterday's homework assignment.
But, alive and well in my mind are my dreams.
My mind is an island, isolated in the sea; a place where I can think.
It is where my thoughts freely flow by the trees I call my dreams.
My heart beat sounds like the drum whose drummer refuses to fall in with the others.
It coincides with the rhythm of my dreams.
Car horns are non-existent out of my window like the ceiling that restricts the sky.
It can't interrupt my dreams. No. No. It can't interrupt my dreams.
An Adventures in Odyssey Add!
By Frank, or Trent DeWhite, who makes the best Adventure in Odyssey Adds!!
"Mr Gantry! 'Tis I, Edwin Blackgaard!"
Some stores just don't get enough credit.
Frank's Ad Factory likes suggestions! Please PM me! You can see all the other ads I've ever made here.
...Come visit us today!
-Advertisement-
And from the Apprentices' and the whole Odyssey Times writing force, we thank you, our readers!
-AIOFan11