Well, it's been one week, and we've already made our mark. We are doing our job; We offend others, made people mad, and expose people for who and what they really are. We continue to bring you the ugly truth. And so, to continue making our mark and bringing you the truth, we bring you the highly anticipated second issue of the Odyssey Tattler. And we will continue to bring you the Tattler each and every weekend. But I must warn you; the truth is ugly. But, we will bring it to you, no matter how ugly or horrifying it is.
Top Story
EUGENE BLACKGAARD EXPLODES BURSTS INTO FLAMES: A Special Report
-by The Scribbler
Yesterday, the TOO witnessed an event that some would call horrifying and other would call joyous. Yesterday, Eugene Blackgaard burst into flames. It occurred after a long day of building suspense. It all started when PonyHorses read my thread about whom I support in the current election. Apon discovering that I was for The Top Crusader and Eugene Blackgaard, PonyHorses proceeded to break down into tears. It was about this point that Eugene Blackgaard, or EB to most, made the comment that "There is no possible way that this could make you break down into tears." This only upset PonyHorses further. Eugene Blackgaard pushed the issue, and only worsened her emotional state. Finally, EB stated that "If this is truly upsetting you, then I will publicly apologize to you and/or burst into flames." Well. This is the type of event we here at the Tattler like to see. So, I personally made sure that a full news team would be there to capture the event. When it happened, I had my camera out, and managed to snap this horrifying (or joyous) event.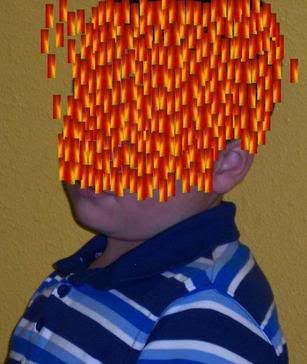 Fortunately (or unfortunately for some), Eugene Blackgaard survived this deadly encounter with fire. We here at the Tattler send him our best wishes, and pray for his speedy recovery. After all, since he is a favorite subject with my writers, we can't write about someone if he's in the hospital. This is The Scribbler, signing off.
Mellow the Marshmellow Man
-by Ellis
We here at the Tattler have come up with some facts to prove that Mellow is indeed, a Marshmellow.
First of all, lets review the name, Marsh
mellow
. That right there is almost enough to prove Mellow is a marshmellow. Here is a qoute from the Dark Lord Sauron:
http://www.aiosf.com/sounds/torule.mp3
.
We had one of our top photographers go out on a journy to the unknown! He/she found some amazing things at Marshmellow's house. Take this picture for example:
Believe it or not, that is Mellow, The Marshmellow Man! We barely got away with this picture. We would not have made it out alive if it weren't for Mellows kid brothers and sisters. We thank them for eating away at mellow's legs and feet (as you can see in the picture above /\ ). One more thing are photographer found at Mellow's house is that Mellow some how "heals" himself. As you have seen in the first picture, some people really have eaten him. But he still is alive now, how is that? Well, we can
not
explain
how
he does it, but we can show you a picture of him after he healed himself:
. Some how he has keept himself alive, for now, but we
do
know the secret to get rid of him. Grab a bunch of hungry people (make sure they have plenty of energy too) run to Mellow's house, and EAT HIM!!!
Secret crushes?
-by Ellis
We here at the Tattler have always been sensitive to different likes of people, crushes, puppy love. Which is why we've been keeping a sharp eye out for such possibilities. After watching Christian Cowgirl's posts the last few days we picked up on her little passion. Starting with her signature, she told Monday she felt comfortable with this one. Does this mean she's now comfortable with her crush? Lets view this signature in question.
Of course she could be refering to EB, but we all know EB is younger then her and Top is older. With that in mind lets view some quotes.
Christian Cowgirl wrote:
Top ... Awww! How sweet!
Christian Cowgirl wrote:
.... top
In the "Who would you like to be" topic.
Christian Cowgirl wrote:
I'd like to be Top.
We then found out that there are a few people possibly crushing on Top.
We checked out one of Jessicado's posts:
jessicado wrote:
Top---I just (sniff) have to say (hiccup) how INCREDIBLY AWESOME you are!!!!!!!
I just, I mean (sob) I am in such awe of you that merely being in your presence (hiccup) has reduced me to sobbing uncontrollably. You.......are....so...... AWESOME!!!!!!!
(desperately clinging to leg)
Do we really need to say anymore about that??
Then we noticed another person, Catspaw. She too had one of those lovey dovey signatures.
And a quote from Catspaw:
Catspaw wrote:
when I'm near the awesomeness that is The Top Crusader, I can get a little silly.
Catspaw wrote:
Top looks much cooler and far more devestatingly handsome than that Dilbert fellow does.
We then found one more person; Monday. First of all we checked out her signature:
Then we checked out her avatar:

Now that scared us a bit. And we found another thing. In her profile we read the 'Location'. It said: In the Land of Love.
We don't think we must say much more to prove the fact that Top seems to put a spell on the women here at the ToO. Protect the women, get rid of the problem!
Regardless, we send our regards and deepest regrets to Top.
Shadowpaw: Can we Trust Him?
by Dr. Jones
And now, for my target, er, I mean, subject of the week, the dangerous, vile, evil presence on the Town of Odyssey (also known as Shadowpaw) will be explored. He is the founder of our fair Town of Odyssey, but does that make him trustworthy? The answer, my fellow citizens, is NO! Let's examine his name, shall we? Shadowpaw – now there's a suspicious name if I ever heard one! Shadows indicate that he has something to hide, and secrets are rarely good. What information is he keeping from us? Are we part of some dreadful experiment cooked up by the Canadian government? By a mad scientist? By a wacky Adventures in Odyssey fan? Our lives (and the time that was previously considered "free time" before the ToO was there to occupy that time) are in peril, due to a shady character who wants to make his mark in this world! His name leads us directly to a motto/description that he has subscribed to frequently in the past: "He lies in shadows". Hardly innocuous-sounding, is it? One meaning of this saying could be that he lies down (in a lazy manner, most likely) in a shadowed area, due to a dislike of sunlight due to a strong sensitivity to the sun due to the fact that he burns easily, but never tans nicely afterwards. That in and of itself does not sound so bad. However, a much more sinister interpretation is more likely. He lies (tells falsehoods) in a shady (crooked or underhanded) area or way. Is this the man that we want as our leader? Nay, I say! Nay! He may have begun this wild experiment, but it is obvious that he should not continue to lead it in the future.
Just in case Shadowpaw's malevolent name was not convincing enough, another example of his inadequacy readily presents itself. His priorities are obviously askew! When faced with the dilemma of spending time with us, the citizens of the Town of Odyssey, or studying and preparing for his exams in the "real" world, what did he choose? Not us, that's for sure! If we are not a priority for him, then why should he continue to lead us? It's time for a fresh start. This town needs a man with big feet to lead it to future greatness, to bring back the glory days! (Whenever they were). The Town of Odyssey needs…Bart Rathbone! He is the man that we need to guide us! In the coming mayoral election, I urge you to vote for Bart Rathbone, and his running mate for chief-of-police, Rodney Rathbone. Together, they will provide the leadership that this town needs, without any of the flaws that are so evident in Shadowpaw, our current leader.
AUTHOR'S NOTE: It came to my attention immediately before our press date that Bart and Rodney Rathbone are withdrawing from the race, citing personal reasons. Other sources say that the duo were never running to begin with, and that I had been working with poor source material, but the ones who provided information contrary to my information were not people that I considered trustworthy, so I'll ignore them. Please vote as your conscience allows in the election this weekend, but please, make sure that Shadowpaw is removed from his position of authority if you care at all about the future of the Town of Odyssey!
The Tattler Spotlight
The Dr. Watson Interview
-by The Scribbler
One of the highlights of my job at the Tattler is getting to interview the people of the TOO. And, one of the best sections of the Tattler is the Tattler Spotlight. When deciding which boring person to interview for this issue, I decided to look around the TOO to find who would be the most interesting. Well, I discovered that no one is interesting here on the TOO. So, I decided to pick the most boring one. That is where Dr. Watson comes in.
I began my interview with my usual question.
TS-"Hello Dr. Watson. How is your day going?"
Dr. Watson-"Very well. It is a nice sunny morning."
TS-"That's nice. Now, I understand that you are a writer for the Odyssey Times. Please tell us a bit about what you do."
About this time, the good doctor shifted his legs, and wiped his sweating hands on his pants.
Dr. Watson-"Since the Times is just up and running, not a lot yet. Currently, I'm looking for a cool angle on Crestwood Avenue. I want to let Odyssey know about the thriving businesses there and the bright minds that run them."
Well! That's most interesting!
TS-"So! Someone wants free advertising for their business, and they pay you off. Then, you pass it off as 'an article on the local businesses'. That is most clever. So, who paid you off, and how much did they pay you?"
Dr. Watson-"Jack Allen paid me a hefty sum to advertise his antique shop. Whit also slipped some bills to me surreptitiously. All the rest of them, Trent DeWhite, Ferder, EK, etc. are rather stingy with their money. No bribes there."
TS-"REALLY! That is extremely fascinating! Mr. Watson, I'm so glad I talked to you. Doctor, can you tell us how much money Trent, Ferder, EK, and other paid you for advertising?"
Dr. Watson-"$0.00 Mr. Scribble."
It was about this time that I began to realize that the dear doctor wasn't like anyone that I've interviewed before.
TS-"Ah, you are taking me for a ride. Very funny. Now, can you tell us a bit about Monday, your editor?"
Dr. Watson-"She supports Top Crusader. I rather dislike the poor coverage you gave him, Scribble. Are you a closet Mellow Fellow? Hmmm??? How much did the Mellow campaign pay you, pal?"
This had gone far enough. It was time to take control.
TS-"First of all, let's get one thing straight. My name, is The Scribbler, not Scribble. Or, you may call me TS. Second, you know who I'm for. I'm for The Top Crusader, the lesser of the two evils. Third, I will not be the one questioned here. If you want to question me, then do it in your interview, not mine. Got it? Now, please get back on topic. Monday. What kind of editor is she?"
Dr. Watson-"Very well, I shall stick to the topic, if I must. But just wait when I interview you! Monday: A good editor, and I think she truly has the people of Odyssey in mind when she prints the Times. Her first issue was an ingenious idea and well put together."
Right. That's just what she wants us to hear. Boy, that Monday is a sly one.
TS-"Very well, I shall wait. Now, I'm sure that you think of Monday as a good editor. But, how can you be sure that she has the people of Odyssey in mind?"
Dr. Watson-"The effort she put into the edition of the Times speaks volumes. Also, her respect for the truth makes it quite clear that she wants a true newspaper, not tabloidism."
So! Resorting to personal insults, is he? Now we see his true colors.
TS-"Are you implying something? There is nothing wrong with tabloidism. Even if the Tattler was a tabloid. I'll agree that the Times speaks volumes, but what does it speak? Also, can you tell me a bit about Monday? Not what she's done, but what she's like."
Dr. Watson-"Alas, I cannot help you there. My interaction with Monday as a person has been a minimum."
So! The editor of the a newspaper doesn't even talk to her writers! Most fascinating.
TS-"Well, this interview was a waste. Oh well, at least I found out that you aren't the person to go to for some juicy info. Thank you Mr. Watson. It was an.........'enjoyable' interview."
Dr. Watson-"Good day, my dear fellow. Shall I have my butler show you to the door?"
Well. Imagine that. Having me kicked out of his house. What a kind person.
TS-"That won't be necessary. Good day."
I got up, and left. What a waste of time. I know now NEVER to go to the good doctor again. This is The Scribbler, signing off.
Is AndreaMeltsner Nuts? A question of our dear poet's sanity
-by Thomas
I have had the privilege of meeting a wonderful girl here in the Town of Odyssey. Her name is Andrea Meltsner. She seems very interesting and kind hearted. Yet there is something quite odd about her. This made me wonder if she was quite all there or if she had some sort of mental dysfunction.
After having several private discussions with her I found out that she is perfectly sane, as long as she eats her daily dose of Ketchup she is fine. because as we all know Ketchup has natural mellowing agents.
After doing a very tough investigation I have found that she suffers from the cronic blues, which obviulsy effects the way she acts. There are some other symptoms, such as not having proper sleeping habbits ( she was recently awake for more than 36 hours at one time) also strange eating habbits. ( like samon, sundried tomatoes and Goat cheese sandwiches.) Scientists are working hard and feverently to find a cure to save her, on account of her being so darn cute.
Andrea has hopes that she will be cured. She tells me that she likes someone. Apparently someone named Shadowpaw. who is a person from Narnia. He often talks to her by radio brain waves, a system formed by Eugene Meltsner ( No direct relation to Andrea) called RBW.
They have sometimes have had discussions about various things. and seem to enjoy eachotehr's company. I however am quite concerned. As any real AIO fan would know, in the wrong hands RBW can be used to control minds and the people could be exploited to do evil things. Also I don't really want Her to go to this Narnia place.
So prayers are needed so that Andrea may be able to stop being blue all the time and be happy and cheerfull!
An Actor Among Us.........
-by The Scribbler
The other day, I was approached my one of my many sources. So far, the day had been boring and not a lot was happening. Typical day on the TOO. As I said, my source approached me, and filled me in on some interesting information. Allow me to quote my source. "Hey TS, got a tip for ya. I found out that one of the members of the TOO is a prominent AIO voice actor." Well. The day was starting to look up. My source didn't have very much info, but he did say this much. "The actor is a member whom is known by most of the people of the TOO. This member was on the TH. This actor plays a pretty prominent character." I patiently waited for my source to shut up, then asked him the question that you must be dying to know. "Who is this actor? Which member is he/she?" My source answered the last question, but didn't know which actor this member was. Now, as much as I'd like to tell you the answers to the last question, I've been asked not to reveal his/her identity. But I can say this; You might not be surprised if you found out. If only you clueless people had any idea who is really an actor.
Now, shortly after I was told this information, I received.........the visit. And, I most certainly can tell you who visited me. It was Shadowpaw. I was kindly told to back off of this issue, and just forget who is on here. But how could I forget—
Oops. Almost slipped.
After receiving the PM from Shadowpaw, I decided to push this thing as far as I could. I wanted the dirt, and Shadowpaw would give it to me whether he liked it or not. I responded to his PM with the following. "Who is this actor? Why does he/she keep his/her identity hidden? Why should I back off? Would you like to tell me why I wasn't informed of this?" Evidently, Shadowpaw didn't take to kindly to these questions. But, he did answer some of my questions. This was his response; "First of all, I can confirm that the member *blank* is an actor for AIO. He wants his identity to remain hidden so he isn't swamped with PMs asking him questions and such."
Wait. Stop right here. Shadowpaw said 'he'. So! It's a he! And I think I have a pretty good idea who this actor is. Ok, go ahead.
"I am not at liberty to say which actor this member is. I'm sorry."
Ya, I bet you are.
"You should back off because if you don't, then I will ban you."
Well! Imagine that! Shadowpaw, using his power around here to halt free speech! Well, he didn't scare me. Not in the least. There is nothing that can deter me from bringing my readers the truth.
"You weren't told, because you are The Scribbler."
Wow. There's a shocker. Now, most people would take offence to that, but being the infamous Scribbler, I take those kinds of things as compliments. It is phrases like that that tells me that I'm doing my job.
So there you have it. There is a prominent AIO actor among us. And I can't say which member it is. Well……..ok, maybe I can give you a hint.
Here it is; This member is involved, in one way or another, in the current election.
This is The Scribbler, signing off.
_____________________________________________________________
Please take a look at our sponsor. If you would like to be a sponsor of The Odyssey Tattler and have your advertisement here, please PM The Scribbler.