I decided to start a thread showcasing the art projects that I created for my art class last fall. This one was one of my favorites: I'll include the paper I wrote with it because it does the best job of explaining my reasoning and purpose.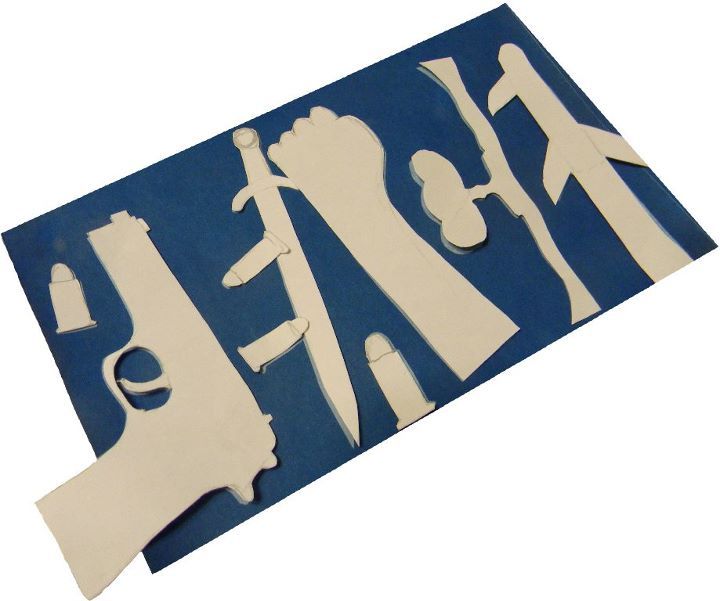 Peace?
In the past year or so, I have thought more about the issues of peace, war, and nonviolence than I have ever before. I come from an Anabaptist, Mennonite background. This movement began following the Protestant revolution of Martin Luther, but was a revolution from both the Catholic Church and the Protestant Church's stance on combining the church and the state. One of the main positions of the Anabaptist movement is that of non-violence: being willing to experience violence because of one's faith, but not being willing to exert violence on others for one's faith. Last winter, my Sunday School class spent several weeks going through a study on this issue. We talked about how as followers of Jesus we are to value all life, include those of our enemies ("Anabaptism"). With this in my mind, the ideas behind Man Ray's Rayograph – 1963 and the Dada movement caught my attention as I read this chapter.
The Dada movement grew from the disgust of the violence of World War I. Founded in Zurich in 1916, its followers were defined not by a style or similarity of work, but of ideals. They rejected the traditional ways of making art and of visualizing reality (Foresta). Instead, they focused on shocking their viewers and showing the senselessness of war ("Dadism"). In keeping with their focus on irrationality, the name Dada is claimed to have been chosen by stabbing a knife into a dictionary ("Dada"). Dada is French for hobbyhorse, which does nothing to make sense of the name, precisely the point of Dadaism ("Dadaism"). After its beginnings in Zurich by artists such as Hans Arp, the movement grew to include France and eventually New York. In New York, another group of artists began to embrace the ideals of the Zurich Dada movement. One member of this group was Man Ray.
Man Ray was born in Philadelphia, PA in 1890. His name was Emmanuel Radnitsky, but he signed his work under the name of Man Ray ("Man Ray"). He took drawing classes under Robert Henri and George Bellows at the Francisco Ferrer Social Center and also spent time at several art galleries in New York, learning about the Dada movement as it developed in Europe (Foresta). Ray was the only American artist to be a part of the start of both the Dada and the Surrealism movement. In 1921, he moved to France, where he would stay for a period of twenty years (Foresta).
While he was in France, Ray experimented with many different mediums, including painting and photography. He developed his own special photography method that he called Rayographs. This method placed objects on photography paper and exposed the paper and objects to light. The places where the objects blocked the light remained white, while the lighted areas turned dark (Adams, 214). Ray describes the process as "painting with light." This method turned the ordinary objects that Ray used into unclear and mysterious items (Foresta). Ray also experimented with film, producing four movies in the Surrealist style during his time in France ("Man Ray").
As World War II broke out, Ray returned to the United States. He found it upsetting that he was only known for his photography and not for his other works ("Man Ray"). After the war, he returned to France, continuing to paint and create until his death in 1976 (Foresta).
It was during his second period in France that Ray created Rayograph – 1963. I was curious about this work because I thought the medium was very different and unique. The way the shapes are sharp at some points and blurred at others give the picture a mysterious feel. I was inspired by the way that Ray incorporated the theme of the senseless of violence into this work. The dominant item in his work is the gun, with the cards with nonsensical letters on them circling out from it in a radial pattern. I believe the letters and the unidentifiable shapes are part of his design, meant to bring confusion, the same feeling that Ray had about violence.
I wanted to do something similar to a rayograph for my artwork for this week. I remembered that my siblings had done an art project where they placed objects on a special Nature Print paper and set it out in the sun for several minutes. My mom said that we still had a few of the papers left, so I decided to attempt to do my own variation of a rayograph.
As I said at the beginning, I have been thinking a lot about pacifism/non-violence. As I was reading through the section on the Dada movement and Man Ray's work, I wondered if I would be able to do something similar. I wanted to stay in the theme of rejecting violence, but I wondered how I should do it. I liked how Ray used a single gun to represent violence, but I know that there are many other items that are used violently today. I also wanted my art work to show that peace is not just my goal but should be my method as well. Many times war is said to be necessary to bring about peace, but can training people to be violent result in peace when the reason to be violent has ended? These are the issues I wanted to raise in my artwork.
I decided to use several recognizable symbols of violence as my objects to bring harmony to my work, while still allowing a variety of different shapes. I drew a pistol, several bullets of varying sizes, a raised fist, a sword, a mushroom cloud, and a missile. I cut these out of card stock and arranged them on the paper to form the letters P E A C E in negative space. In order to make them all form the letters, I had to ignore the real life scales of the items and proportion their relative sizes to fit around the letters. On the first one that I tried, I used tape to hold the pieces in place so that they would not blow away while the sun shone on the paper. However, when I tried to take them back off, so that I could finish the process by soaking the special paper in water, the tape pulled off some of the paper. I decided to redo the project, using a piece of glass to hold the papers in place. The second one turned out much sharper, due to the glass holding the objects tighter to the paper.
I hope that my work shows the senselessness of attempting to achieve peace through violent means, whether it is through guns and bombs, or knives and fists. I hope that it's message is that we should seek peace through peaceful means and that violent methods only lead to more violence.
Works Cited
Adams, Laurie. The Making and Meaning of Art. Upper Saddle River, NJ: Pearson/Prentice Hall, 2006. Print.
"Anabaptism." Messiah College: Sider Institute. Messiah College, 2009. Web. 16 Sept. 2011. <http://www.messiah.edu/siderinstitute/anabaptism.html>.
"Dada." MoMA | The Museum of Modern Art. Oxford University Press, 2009. Web. 16 Sept. 2011. <http://www.moma.org/collection/details.php?theme_id=10455>.
"Dadaism" The World Book Encyclopedia. 1977. Print.
Foresta, Merry A. "Man Ray. (American, 1890-1976)." MoMA | The Museum of Modern Art. Oxford University Press, 2009. Web. 16 Sept. 2011. <http://www.moma.org/collection/browse_results.php?criteria=O:AD:E:3716>.
"Man Ray." The J. Paul Getty Museum. The J. Paul Getty Trust. Web. 16 Sept. 2011. <http://www.getty.edu/art/gettyguide/artMakerDetails?maker=2036>.