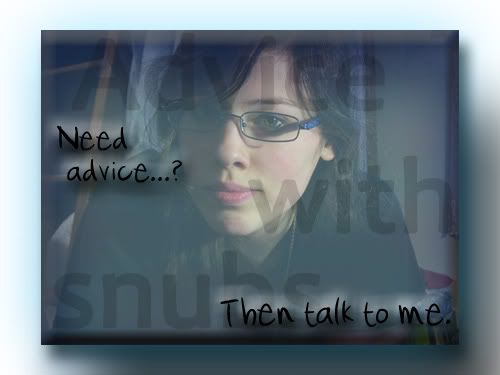 Welcome! Here, you can ask for advice! And I will do my very best to give you that advice!
How does it work?
Well, if you need some advice or input on something you ask me.
Big or small…?
It doesn't matter the problem, big or small, you can come to me. Maybe you want advice on buying a new necklace, or something that is related to this site. Or maybe you just need some advice on friendship, or witnessing to someone. It doesn't matter what it is, if you need some input/advice then come on in, and talk to me! Oh, and if you don't want other people to see what you are asking about, then you may PM me if you wish.
Price:
All I ask is $0.05. for every question you ask (but if you ask lets say.. three questions in one post, it is still only $0.05.
) If you would like to give me more, feel free.
But please do not feel obligated to do so. All I ask is $0.05.
Warnings:
Do not ask advice you know the answer to. All that does is waste my time and yours. Do not ask anything inappropriate. I want this thread/shop to stay clean and friendly.
NOTE:
I will do my best on giving you advice, but I cannot guarantee that it will always meet your standards of what you want to hear. The reason I made this shop is one, I want to help people (I'm serious) to the best of my abilities. And two, I thought it would help me with situations in my personal life. That way I can be somewhat prepared on what to say if someone were to ask…well… advice.