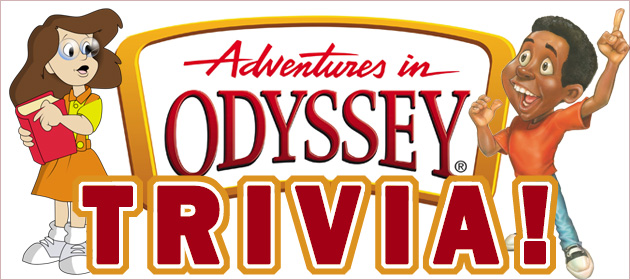 Welcome to Adventures in Odyssey Trivia!!!

This game will consist of 20-25 AIO trivia questions. I may do more depending on how fast the game goes. But that's what you can expect for now.



There is no signup necessary, everyone is free to jump in at any time!

Also.. these trivia questions are pretty old (from older episodes).. and some of them [might] have been used before.
These questions are from my super old trivia document when I used to collect trivia.
So if any of it is wrong or whatever.. deal with it. =p ..or feel free to yell at me.

The rules are simple..
When a trivia question is posted players then answer below, IN THIS THREAD. The first to answer correctly gets a 1 point. Each point is worth $5 ToO dollars!
Please don't look up the answers unless I say so.
Everyone who participates (even if you don't get any of the answers right) will get one entry in the Jackpot Prize Drawing.
The two top scoring players get an extra raffle entry. If there are a lot of players than I'll make it the top three.
NEW RULE:



You may not answer (correctly) two questions in a row until someone else has given an answer first.


So if you get one right, you cannot answer the next question until another player gives an answer (whether it be wrong or right). If you answer wrong, however, you may give another answer directly after that.
_______________________________________________
FINAL SCORES and PRIZES
Belle - 13
—$70 plus 2 raffle entry
Woody - 13
—$70 plus 2 raffle entry
Lizzy88 - 12
—$65 plus 2 raffle entry
E II -11
—$55 plus 1 raffle entries
Isaiah the Ox - 10
—$70 (for doing the best in the live round) plus 1 raffle entry
bookworm - 8
—$40 plus 1 raffle entry
Connie G. - 7
—$35 plus 1 raffle entry
Miss Friendship - 6
—$30 plus 1 raffle entry
Mr. Whit's End - 4
—$20 plus 1 raffle entry
aussie aio fan - 2
—$10 plus 1 raffle entry
Graces4you - 1
—$5 plus 1 raffle entry
WhittyWhit - 1
—$5 plus 1 raffle entry
LIGHTNING --
—1 raffle entry
Sameria_ZX --
—1 raffle entry
_______________________________________________
FIRST QUESTION!

#1. Who said: "Are you talkin' a regular kind of dream? Or like, one of those dreams Joseph had where cakes were eaten by cows and stuff?"