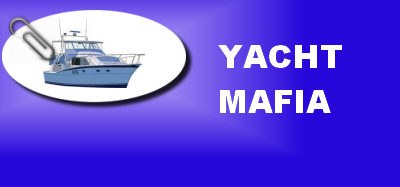 Sign up thread
On a yacht deep at sea, where the passengers and crew only wanted to have some fun--well, at least most of them. Some members of the mafia have infiltrated the yacht
and are attempting to steal the yacht to use for their own nefarious purposes, like smuggling American cheese into Canada. They plan to murder everyone else on the boat, so that they are the only ones left. The non-mafia member of the yacht have to figure out who the mafia is and throw them overboard before they are killed.
This is a
game of mafia
, also known as werewolf in some places. It will be run slightly differently from other versions of mafia played here before because I am in charge and like my rules better.
Rules
(This assumes that you have played mafia or werewolf before. If you haven't
read this first for a basic explanation of how this sort of game works.
.)
in this game, days last one week or until a majority has voted for a single player. This means days will go past faster when everyone agrees on who should be thrown overboard (lynched), so there will be less waiting around.
Any re-voting once a majority has been reached will be ignored, so be careful when voting.
Nights last three days or until every role who does an action PMs me. If someone fails to PM me during the night, they will target a random person. (Mafia will not target other mafia.)
Anyone who is inactive for 1 in-game day-night cycle will be replaced with someone else. Posting in the game thread or PMing me about the game counts as activity.
You can roleplay if you want, but I will not be enforcing it.
Other members of International Paperclip can play. I am running this event by myself, so there is no fear that they know secret information.
No quoting your role PM. You can still claim to be a role, just no quoting your role PM word for word.
Note that the mafia will win only if they make up the majority of the town merely being half the yacht's population is not good enough. (Historical note: This rule was added after this game ran, because Moontide kept linking back here for the rules in future games and he wanted a rule in case that came up.)
The exact roles will be determined once I know how many players I have. There may be roles that are not the standard sheriff, doctor, mafia goon, and townsfolk roles, but all the roles in the game will be listed in the game thread once it starts.
No talking about this game anywhere but in the game thread, in this thread or to me unless your role specifically gives you permission to do so. This means no PMing other townsfolk planning on how to get the mafia, or asking if they are the sheriff.No talking about this game if you are dead. If you have questions, PM me.
To vote for someone say:
VOTE:username of the person you are voting for
No need to unvote before voting for someone else. If you want your vote to be ignored say:
UNVOTE
To vote to kill no one say:
VOTE: no kill
Please, put voting on a separate line and bold so I can find it easily. If you don't your vote may not be counted.
To sign up, just post in this thread that you are interested. The last several people who sign up in this thread will be held as backups to replace the people who go inactive during the game. Sign ups close next Friday, that is July 8.