Everyone,
I am pleased to announce that the ToO has
officially
turned ten!

It has been ten years since Shadowpaw started this amazing board! Every year it gets more unbelievable that the ToO has been around for so many years. One whole decade of posting is a huge milestone, with some members having been active through that entire time. Join me in celebrating ten amazing years of ToO-ification of the internet! They have all been filled with awesomeness.

As Shadowpaw just posted (click here if you haven't seen it yet)
not all things remain the same, and yet they still do in the ways that count. I still remember the excitement leading up to the opening of the ToO. I had no idea what was going to be revealed on April 1, 2005, but I knew that it was going to be great! I wanted to stay up late and see what would be revealed, but I was living in dorm at college at the time and it was a weekend where visitors could come check things out, and my sister and a friend were sleeping in my room, and I really couldn't justify staying up. Early the next morning I couldn't resist checking things out and of course I had to join right away, but a little piece of me still wishes that I had stayed up and got to be one of those very first few members to join. There are a ton of good memories (and a few others...)

associated with the ToO for me.
The statistics below prove that there are a lot of dedicated ToOers who love to post, even if we're not quite as busy as we were that first year!

Number of posts:

1011702


Posts per day:

277.03


Number of topics:

29269


Topics per day:

8.01


Number of users:

1321


Users per day:

0.36
Thanks to Dan for providing his traditional special anniversary surprise! I made a point not to look until the post was submitted so that it would be a fun surprised for me too!
Click here
to see the thread that contains all the images of the construction process. Don't let the smileys down after all their hard work - go take a look!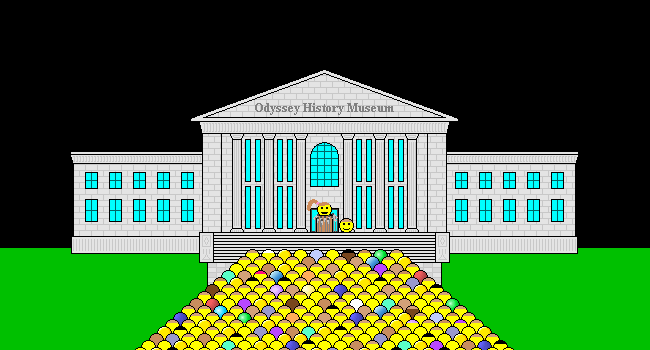 If you would like to read past anniversary threads, they are all archived in
City Hall
. You won't be able to post in them, but feel free to peruse past celebrations! Click the following links if you're interested:
1st
2nd
3rd
4th
5th
6th
7th
[url=http://thetoo.com/viewtopic.php?f=2&t=32895]8th
9th