Everyone,
I am pleased to announce that the ToO has
offically
turned four!

When Shadowpaw debuted this wonderful board that he created four years ago, I'm sure he never expected it to still be so popular and growing four years later! (Well, maybe he did, but the rest of us would have said he was crazy!)

It's wonderful to see that there are still so many loyal ToOers, both those who joined four years ago today and the many more who have joined since then.
The statistics below prove that there are a lot of dedicated ToOers who love to post!

Number of posts:
665392
Posts per day:
455.46
Number of topics:
19997
Topics per day:
13.69
Number of users:
1270
Thanks to Dan for providing a special anniversary surprise!
Click here
to see the thread that has all the stages leading up to the glorious anniversary finale!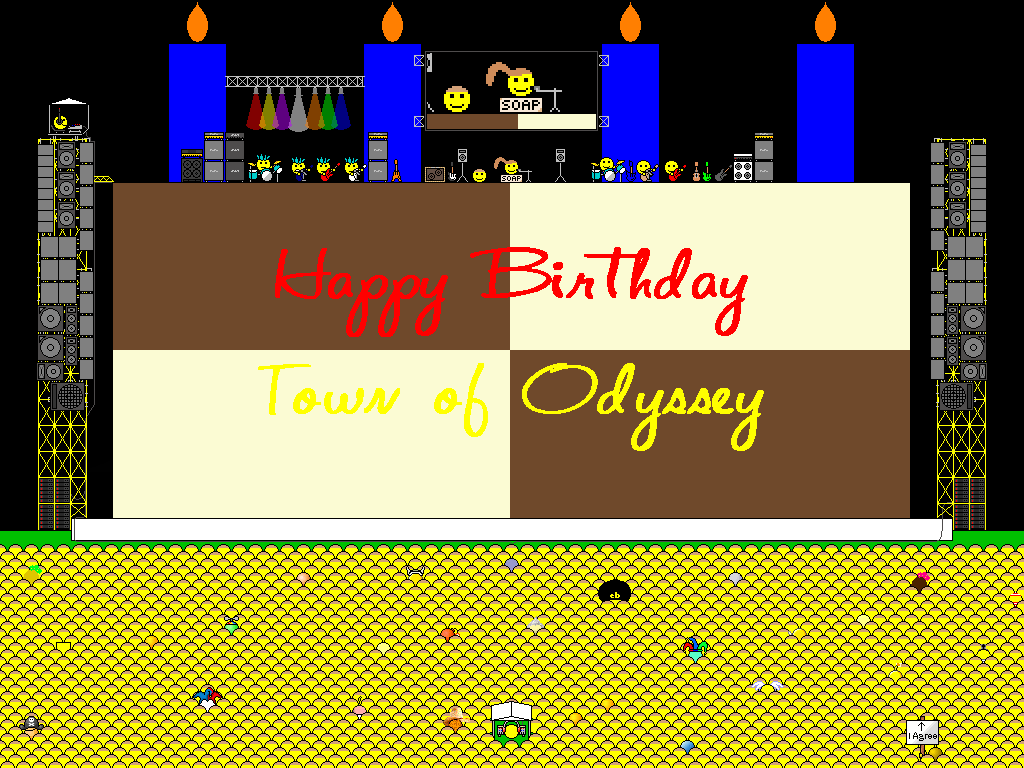 Another special anniversary treat involves thoughts from a few members who agreed to either write out or record their thoughts about the ToO!

Kairi wrote the following lovely message:
Kairi wrote:As the ToO celebrates its 4th anniversary, I'd like to share some memories of my time here on the Town of Odyssey. When I first encountered the ToO, I was actually a bit cautious (and for good reason, one look at the current story arc and I was confused for life

)! I joined just in time for the Regis Blackgaard story arc, in which I happily participated. A few months after the story arc ended, I began to delve into the world of role-playing and became a Doyle. Although the clan is mostly inactive now, I have fun memories of role-playing (and learning the art of role-playing) with my fellow "family members." Participating in the political process here on the ToO has been an enlightening experience. I've met many friends on the ToO, and I hope I will be able to keep. I don't think that I will ever forget the ToO when I grow up. This has been a place where I have learned important life lessons. So, as the ToO enters what should be another year of randomness, AIO discussion, and insanity, I wish the Town of Odyssey a happy 4th birthday!
There are also splendiferous recorded messages from
Sonuna
,
Regis Blackbeard/Troy Bolton
,
The Top Crusader
,
myself
, and, oddly enough,
Rodney Rathbone
!
Click on the name for the listening link. Thanks to Trent to helping me out with the links - he is more than kind to my poor dial-up ridden self! For those of you eager beavers who are viewing this message right away, my link will be available shortly, and a few more might be on their way throughout the day.
This thread is a great place to post your own thoughts on the ToO, such as favourite memories, people you wish were still around, people you're glad to have around, or anything else!

If anybody would like to record their own anniversary message and post the link, that would be wonderful! Just a reminder to check with your parents first, since some parents might not want their child's voice broadcasted across the internet.

Thanks to all for being part of the ToO's special day!

Enjoy the fun things that will be happening throughout the day!